MP3 Ringtone Converter
Convert the popular audio formats MP3 to ringtone formats (.mmf,.amr,.mp3,.wav, .mid) and send them to your cell phone
Ringtone means the audible sound made by a telephone to announce that a call is coming in. Many people have questions about ringtone format and MP3 Ringtone Converter, since they are relatively new. This site is dedicated to helping you learn more about them, hopefully you will make the greatest ringtone on your mobile phone with related programs.

Just as the name implies, MP3 Ringtone Converter is the software converting MP3 files which played on your PC into ringtones. Most converters support several ringtone formats including AMR, MMF, MIDI, MP3 and Wave files. And many programs are compatible with the latest devices from Nokia, Motorola, Samsung, Siemens, Sony Ericsson, Alcatel, Benq, Lg, Panasonic, Sagem, Sendo, Sharp and ect.

There are some MP3 Ringtone Converter which also can be used as a MP3 resizer for your MP3 mobile phone. You can save any part of your favorite MP3s to ringtone format. 64MB MP3 mobile phone can support more than 60 songs. You can even record various sounds, including your own song, and make it a personalized ringtone.

There are many MP3 Ringtone Converter available on the Internet, here we list some popular programs which support this function. With them you only need several simple steps to make your favorite music into ringtone. You can also preview, adjust the volume, and accurately select your favorite part, to make a fantastic ringtone.


Related Software for MP3 Ringtone Converter
MP3 To Ringtone Converter Gold
download 1
download 2
It can be used to convert the popular compressed audio formats MP3 to ringtone format (.mmf,.amr,.mp3,.wav, .mid) and send them to your cell phone. It can be used to rip multiple audio CDs at once .It also can be used as a mp3 resizer for your mp3 mobile phone.
Mobile Ringtone Converter
download 1
download 2
It can convert/mix multiple tracks to mobile ringtone format MP3, OGG, AMR, MMF, AMR WB+, WAV. convert MP3 to AMR MMF, convert WAV to AMR MMF etc.
Joy RingTone Converter
download 1
download 2
It enables you to create your own ringtones by converting your MP3, WAVE files and CD tracks to the most common Ringtone format, including MMF, AMR, MP3, MIDI, WAV, AAC, 3GP and MP4.
TS Audio To MIDI
download 1
download 2
Powerful MP3 to MIDI Converter to convert WAV MP3 to MIDI , performs automated recognition of polyphonic music, stored in MP3, WAV formats as well as audio CDa tracks. creates MIDI sequences from WAV MP3 CD tracks, also in realtime.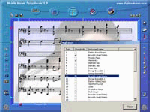 Mobile Music Polyphonic
download 1
download 2
It is a polyphonic ringtone composition and converting software. It can convert your favorite MIDI music to mobile phone ringtone. You can write your own music in Mobile Music Polyphonic and save to polyphonic ringtone format file.
Quick Ringtone
download
An easy to use ringtone maker that can convert audio to mobile phone ringtone, convert ringtones between MIDI, RTTTL, MOTO Composer, eMelody and iMelody code.
Related Articles and FAQs
Please give this page a point