MP3 to MID Converter
Convert a melody from MP3 to MIDI to make further editing or create a ringtone for your mobile phone
Maybe you have a particular sound file (MP3 file or WAVE file) that you wish to transfer into your 7650 or other mobile telephone through infrared, because the file size is too larger. How to compress the size of MP3 file? Please try MP3 to MIDI Converter software, you will get good quality and small size polyphonic ringtone files.

WAVE, MP3 and MIDI are the most popular file formats for storing music. That is why the question "How to convert one format to another?" is very popular. The conversion from MP3 to MIDI is much more complex and usually requires work of a professional musician listening to a record and selecting notes. This work is complicated and diligent.

First of all, we explain in brief the difference between WAVE, MP3 and MIDI. The most simple is WAVE. It is a record of sound pressure on microphone on time. Any sound can be recorded as WAVE file, but WAVE does not allow to edit components of sound and occupies a lot of space. MP3 is a compressed WAVE. It takes several times less space, but does not allow to separate and edit components as well.

In opposite, MIDI can store only musical sounds. MIDI is a command system, containing information about a note, about the instrument and its change, the length of pressing and so on. This kind of a record can easily be edited and takes hundreds times less space than any digital sound format, which allows you to use it as a melody for your web page or make a preview of your MP3 Internet music collection.

As MIDI file is, in fact, a layout of music, you can change its arrangement in contrast to digital sound. Instruments, number of voices or melody itself can be easily modified using any third-party score editor, which allows creating remixes, variations and printing musical notation. You may even put the melody in your mobile phone!

Our goal is to provide a software solution to convert your favorite MP3 music to cellphone polyphonic ringtone. Here we lists the most popular MP3 to Midi Converter software that can help you convert MP3 files to Midi files.


Related Software for MP3 to MID
TS Audio To MIDI
download 1
download 2
Powerful MP3 to MIDI Converter to convert WAV MP3 to MIDI , performs automated recognition of polyphonic music, stored in MP3, WAV formats as well as audio CDa tracks. creates MIDI sequences from WAV MP3 CD tracks, also in realtime.
MP3 To Ringtone Converter Gold
download 1
download 2
It can be used to convert the popular compressed audio formats MP3 to ringtone format (.mmf,.amr,.mp3,.wav, .mid) and send them to your cell phone. It can be used to rip multiple audio CDs at once .It also can be used as a mp3 resizer for your mp3 mobile phone.
Joy RingTone Converter
download 1
download 2
It enables you to create your own ringtones by converting your MP3, WAVE files and CD tracks to the most common Ringtone format, including MMF, AMR, MP3, MIDI, WAV, AAC, 3GP and MP4.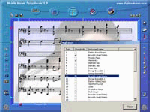 Mobile Music Polyphonic
download 1
download 2
It is a polyphonic ringtone composition and converting software. You can write your own music in Mobile Music Polyphonic and save to polyphonic ringtone format file. You can convert mid to mmf, wave to mmf, mp3 to mmf, mp3 to midi, wave to midi and mp3 to wave file.
IntelliScore Polyphonic
download
IntelliScore can convert WAV to MIDI, MP3 to MIDI, and CD to MIDI and helps figure out the notes, chord names, and key for you. IntelliScore turns your voice or analog instrument into a realtime MIDI controller for live performance.
Related Articles and FAQs
Please give this page a point