ElectriCalm 3D Screensaver - Immerse yourself in a desert storm.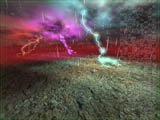 Immerse yourself in a desert storm. The ElectriCalm 3D Screensaver shows off an amazing 3D world complete with a starry sky and a cool foggy night. Multicolored lightning bolts strike all around as you hear real hurricane sounds. Photo-realistic graphics & lighting make it a fantastic.
Purchase $14.95
Download 1
Download 2
ElectriCalm 3D Screensaver Main features:
Photo-realistic 3D graphics
Improved performance in software rendering mode
3D environment
Stereo sound FX
Camera control
Cool rain effect
Amazing atmospheric effects
Multicolored lightning bolts
Password protection
FPS counter
DirectX sound support
ElectriCalm 3D settings allows you to:
Choose screen resolution & color depth.
Switch camera mode
Enable/Disable graphics FX.
Enable/Disable sound FX.
Choose rendering quality in order to optimize graphics for software rendering or slow 3D accelerators.
Other 3D Screensaver
| | | | | | | |
| --- | --- | --- | --- | --- | --- | --- |
| | | | | | | |
| Space Plasma 3D Screensaver | | Alchemy 3D Screensaver | | 3D Canyon Flight Screensaver | | Aqua 3D Screensaver |
| | | | | | | |
| Pirate Ship 3D Screensaver | | MatrixWorld 3D Screensaver | | SeaStorm 3D Screensaver | | WireWorld 3D Screensaver |
ElectriCalm 3D Screensaver Related Software: