Tomdownload.Com > DVD Software 1 2 3 4 5 6
- Make Audio DVD, Burn Audio DVD, Audio DVD Software -
Audio DVD Maker
Powerful Make Audio DVD and Burn Audio DVD Software easily personalize Your Own Favorite Music Audio DVD which is playable on both PC and home DVD player.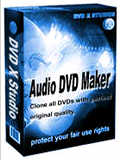 Audio DVD Maker is an innovative audio DVD utility for you to personalize your own music audio DVD. It allows you to convert all separate audio file (CD, MP3, WMA, WMV, etc) into DVD audio format; rip all audio track from video file with audio contained in; specify recorded audio file as input; burn your favorite music into DVD R/RW disc or output to hard disk for storage.

Audio DVD Maker supports all popular DVD media and dual-layer DVD-9 burner, the copied audio DVD disc is playable on both PC and home DVD player.

You even can freely add lyrics and your favorite image as playback background for each music file; freely add/remove/modify/arrange Title and Chapter. The preview function also enables you to experience the wonderful music audio DVD in advance. Possessing Music audio DVD Creator, You will store hundreds of songs on one DVD disc and stay far away stacks of CD, perfect make audio DVD and burn audio DVD software for you !.
Buy DVD Ghost $39.95
Download Site 1
Download Site 2
Make / Burn Audio DVD Software - Audio DVD Maker Key Features:
Convert Media File into DVD audio files: Convert all audio file into DVD audio format; extract audio from video file and save as DVD audio file.
Convert CD audio into DVD audio : Convert audio track of the CD into DVD audio track.
Convert Record into audio DVD: Convert recorded audio from record device such as microphone and Line In into audio DVD.
Supports all popular DVD R/RW burner, includes Dual-Layer(DVD-9, 8,5GB) DVD burner.
ADD Lyrics: Add lyrics in the background image to display when playback songs.
Add Image: Add your favorite image or photo as background when playback songs.
Burn Audio DVD: Burn the converted DVD Audio files into Audio DVD disc for permanent storage.
Multiple language interface selectable
Free upgrades and patches
Free Live Technical Support
Freely select burn engine: Internal/Victor/Nero Burn Engine
Free 14-Day Trial
Audio DVD Maker Related Software:
About

Submitted:
03-07-2005

File Size:
3.08 MB

OS:
Win 9x Me 2000 XP

Requirements:
64M RAM
Windows Media Player
All DVD-ROM DVD writer drives

Rating:



Screen Shot
Hot PACK !!!

DVD X Utilities includes :
1.DVD Copy Tools: DVD Movie backup software
2.DVD X Player Pro: Region-Free & MicroVision -Free DVD Player
3.DVD Ghost: Make your DVD software Region-Free & MicroVision-Free
4.Audio DVD Maker: Easily make your own music audio DVD

( Value: $249.80 )
:: Buy Now $169.95

:: Download Site 1
:: Download Site 2