Tomdownload.Com > Games > Arcade-1 2 3 4 5
Fairyland Game
The aim of the game is to defeat the Red Dragon who stole a Holy Gem. The Red Dragon occupies the 150th level. Your journey will not be an easy one.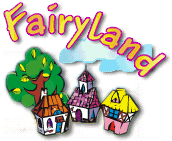 Fairyland Game - You are playing through a little fairy named Ptolemy. Ptolemy knows the incantation for turning her enemies into cakes. When being dropped from somewhere (either you or somebody else may push it or it may fall down by itself), the bewitched enemy expires. You can use your enemies as footholds for moving around the playground.

Some artifacts emerge on the screen during the game. Take them with you and use at the right moment. There are levels with teleports to be used for thunderbolt transportation. Beware: in one of the teleports you are waited by a nasty worm that will grab and trap you and your enemies. The game is about defeating the Red Dragon who stole the Holy Gem. The Red Dragon is waiting for you on the 150th level. This is not a kind of an easy journey. Each level is packed with enemies to any taste and all these enemies are playing against you. The best luck!
Buy Fairyland Game $14.95
Download
Fairyland Game now available on CD!
Get CD Now! $24.95
Fairyland Game full version Key Features:
150 levels
new items
new monsters
cheat codes
very fun gameplay
Cheat Codes:
dragon - fire breath
iceberg - all enemies are immediately frozen into pieces of ice.
invisible - makes it possible for fairy to become invisible for some time.
fareshield - this potion makes fairy protected by fire shield.
candycane - slows down the pace and hopping of enemies.
goodshot - increases the range of fairy incantation.
surprise - changes fairies incantation so that it both ends her enemy and gives a prize.
fly - sends fairy three levels ahead.
stepdance - gives 60 points for each step.
donotmove - all enemies stopping short on 15 sec.
starrain - the stars are falling down hitting the enemies.
sunnycake - there rises the Sun and in a few seconds all the enemies are turned into cakes.
earthquake - earthquake
addmoney - you are given a coin for each murdered enemys.
Related Software:



















About

Submitted:
10-25-2004

File Size:
2.47 MB

License:
Free to try

OS:
Win 98/ME/XP

Requirements:
DirectX7 drivers
Pentium 200 MMX

Rating:



ScreenShot