Main Categories
Games Categories
Tomdownload.Com > Games > Puzzles-1 2 3 4 5 6
Word Puzzle Game - Puzzle Word
Puzzle Word is one of the rare games that are simple to play but really do take a lifetime to master.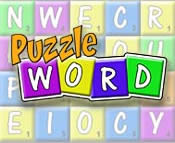 Word Puzzle Game - Puzzle Word is one of those rare games that is simple to play but takes a lifetime to master. Make words of 3 or more characters. After you make a word, those blocks will disappear and the blocks above will fall into the spaces.

As you progress you'll find yourself begin to really strategize to assemble the blocks to make coherent matches. Millions of possible level permutations mean the challenge is virtually limitless. Download one of our most Addictive games today!
Buy Word Puzzle Game $19.95
Download Now
Puzzle Word Download and CD
Purchase $24.90

Word Puzzle Game - Puzzle Word Key Features:
CATEGORY
COMMENTS
SCORE
MAX. POINTS
CONCEPT/ ENTERTAINMENT
Standard connect the letters to form a word game concept.
15
15
EFFECTS
Each level up allows for more letters in the play field. Effects are not very impressive, but in this sort of game, it doesn't need to be.
8
10
LEVEL PLAY
This is where the game shines. Each level progression happens naturally and quickly. The levels are just right for a 56 year old like me as they are easy in the beginning, and steadily gets harder. Just hard enough to keep me coming back.
10
10
GAME CHALLENGE
As Word game lovers, we know the challenge is to make as many words as possible. This game's progression is just so perfect that the challenge of it sucked me in within a half hour of playing it.
15
15
CONFIG/OPTIONS
The different play modes really set themselves apart and are completely different sorts of games.
10
10
LEARNING CURVE
I believe everyone that plays this game can speak English. So if you can spell any words at all, you will have no trouble getting right into the board.
10
10
FAMILY VALUE
Fun for the whole family. My grandkids love it (my grand daughter is preparing for her spelling bee using Puzzle Word).
15
15
CONTENT
Puzzle Word is suitable for everyone (except those that can't spell).
15
15
COMMENTS:
This is one of those games that just looks SOO simple, yet after about 30 minutes of play, I literally cannot stop playing! Maybe simpler is better? Overall, if the game had much more spectacular effects, I might give it a perfect score. It is plenty good as it is though.
Puzzle Word Games Related Software:
Word Puzzle Game
Submitted:
12-10-2004

File Size:
4.63 MB

License:
Free to try

OS:
Win 95/ 98/ NT/ ME/ 2000/ XP

Requirements:
Pentium 300mhz or better
16 MB RAM
8MB video card
7 MB hard drive space

Rating:


Screenshots