Tomdownload.Com > Games > Simulations
Billiards Game - Live Billiards Pool Game Deluxe
Have you felt the thrill digital 3d Billiards Pool Games ? Smooth cue shots, realistic ball movements, the play of light on ivory and bronze, full environmental effects, and a way to talk to your opponents - it's the greatest Billiards Game for you !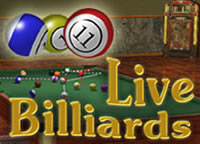 Live Billiards Game is a professional 3D Billiards pool game for PC. Realistic environment and perfect ball physics make this simulator a real competitor to even a real Billiards game. Unless you can join BillYard online pool club to play against partners worlwide, Live Billiards features a variety of local and online Billiards Games ! Free to try.


Live Billiards Game is a comprehensive 3d Billiards Pool Games. Deluxe version features Straight Pool, 14+1, 3 ball, 8 ball, 9 ball, exotic Pyramid, American, Rotation and DeathMatch games. Ball view and physics are perfect and permits to use any English or masse shot. Network mode works over LAN or Internet, supports online competitions, thus maintaining the realism of championship style Billiards Pool Games!
Buy Now $19.95
Download Site 1
Download Site 2
Billiards Game - Live Billiards Pool Games Deluxe Key features:
The very best 3d Billiards Pool Games for all Win 9X,2K,XP.


Straight Pool, 14+1, 8, 9, exotic Pyramid, Death Match & others...


Online Billiards Games, internet play, web matches, practice with robots, tutorial and more...


Free 1-month BillYard membership, play pool in virtual online club.


instant tech support driven by live people.

Live Billiards Game:
Purchase $ 17.55

Live Billiards Game Classic:
Purchase $ 14.95

Live Billiards Game Deluxe:
Purchase $ 19.95
Billiards Game - Live Billiards Pool Games Related Software :
About

Submitted:
04-15-2003

File Size:
6.93 MB

License:
Free to try

OS:
Win95, 98, Me, NT, 2000, XP

Requirements:
64M RAM
20M free HD space

Rating:



Screen Shot